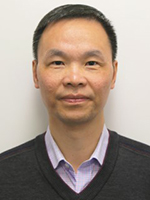 Prof. Huiyu Zhou
University of Leicester, UK
Speech Title: Towards uncertainty in learning and modelling
Abstract: There are many questions to answer in image interpretation and understanding. Uncertainty in image analysis needs strong and powerful modelling tools to describe the objects in the images. Artificial intelligence (AI) plays a very important role in the design of a robust tool for image representation. Using some examples from his own work on uncertainty analysis, Prof. Zhou will explore how AI can stimulate new concepts or development of dealing with complicated problems and lead us to novel adventures through these applications.

Biography:Dr. Huiyu Zhou received a Bachelor of Engineering degree in Radio Technology from Huazhong University of Science and Technology of China, and a Master of Science degree in Biomedical Engineering from University of Dundee of United Kingdom, respectively. He was awarded a Doctor of Philosophy degree in Computer Vision from Heriot-Watt University, Edinburgh, United Kingdom. Dr. Zhou currently is a full Professor at School of Computing and Mathematical Sciences, University of Leicester, United Kingdom. He has published over 500 peer-reviewed papers in the field. He was the recipient of "CVIU 2012 Most Cited Paper Award", "MIUA 2020 Best Paper Award", "ICPRAM 2016 Best Paper Award" and was nominated for "ICPRAM 2017 Best Student Paper Award" and "MBEC 2006 Nightingale Prize". His research work has been or is being supported by UK EPSRC, ESRC, AHRC, MRC, EU, Royal Society, Leverhulme Trust, Invest NI, Puffin Trust, Alzheimer's Research UK, Invest NI and industry. Homepage: https://le.ac.uk/people/huiyu-zhou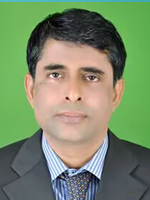 Prof. Umesh C. Pati
National Institute of Technology, India
Biography:
Dr. Umesh C. Pati is a Full Professor at the Department of Electronics and CommunicationEngineering, National Institute of Technology (NIT), Rourkela. He has obtained his B.Tech.Degree in Electrical Engineering from National Institute of Technology (NIT), Rourkela,Odisha. He received both M.Tech. and Ph.D. degrees in Electrical Engineering withspecialization in Instrumentation and Image Processing, respectively, from the Indian Instituteof Technology (IIT), Kharagpur.
His current areas of interest are Internet of Things (IoT), Industrial Automation,Instrumentation Systems, Artificial Intelligence, Image/Video Processing, Computer Vision,and Medical Imaging. He has authored/edited two books and published more than 100 articlesin the peer-reviewed international journals as well as conference proceedings. Dr. Pati has filed2 Indian patents. He has served as a reviewer in a wide range of reputed international journalsand conferences. He also has guest-edited special issues of Cognitive Neurodynamics and theInternational Journal of Signal and Imaging System Engineering. He has delivered manyKeynote/Invited talks in India as well as abroad. Besides other sponsored projects, he iscurrently associated with a high-value IMPRINT project, "Intelligent Surveillance DataRetriever (ISDR) for Smart City Applications," which is an initiative of the Ministry ofEducation (formerly the Ministry of Human Resource Development) and Ministry of Housingand Urban Affairs, Govt. of India.
He has visited countries like the USA, Australia, Italy, Austria, Singapore, Mauritius,etc., in connection with research collaboration and paper presentation. He was also an academicvisitor to the Department of Electrical and Computer Engineering, San Diego State University,USA, and the Institute for Automation, University of Leoben, Austria. He is a Senior memberof IEEE, Fellow of The Institution of Engineers (India), Fellow of The Institution of Electronicsand Telecommunication Engineers (IETE), and life member of various professional bodies likeMIR Labs (USA), The Indian Society for Technical Education, Instrument Society of India,Computer Society of India, and Odisha Bigyan Academy. His biography has been included inthe 32nd edition of MARQUIS Who's Who in the World 2015.